Upcoming Musicians in Barbados 
The island of Barbados is awash with musical talent. Current international performers like Rihanna, Shontelle, Arturo Tappin and Nicholas Brancker, have paved the way for the entrance of a number of outstanding young, bright and talented artistes into the musical arena. Here is a brief look at the careers of three outstanding musicians.
Khalid Batson – Singer-songwriter/Guitarist
"I want my music to bring change, good change. I want to open eyes and encourage people, as much as I can, to do good, good works."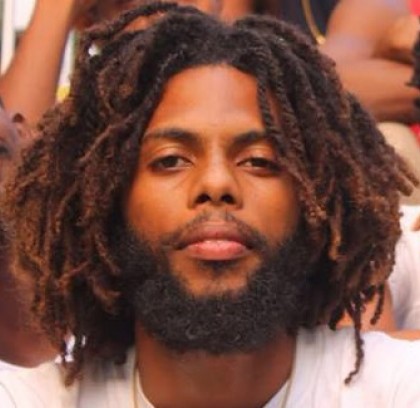 started playing the guitar, mostly, out of curiosity. The graduate of Harrison College attended the University of the West Indies (UWI) at Mona, Jamaica, where he studied History, Politics and International Relations. It was during his sojourn, in Jamaica, that Khalid met a number of musicians and entertainers, including Khaj Thompson, who guided him along the way to a career in music.
So impressed was Klalid with young Jamaican artistes such as Protoje, Kronnix and Jah 9 that he gave serious thoughts to abandoning his University degree to focus on music. However, he found a way to combine the various disciplines, and set about the task of enlightening his peers with the fact that in spite of the radical differences in their roots and culture, music is a universal language which is understood by all of the Caribbean people. "To see people come together and laugh, or react, to what I was doing, was also very rewarding in its own, especially to see and hear people's opinions and feelings towards certain topics."
Khalid hopes to build communities, spread positivity and challenge the lies and falsehoods in society through his music. Watch Khlaid showcase his talent during a live performance at Pelican Village.
Dwight Callender – Drummer
Dwight Callender decided to try my hand at playing the steel pan and discovered that he was a natural he was a natural steel pan player when he decided to "try my hand" at the art form while he was still in Primary School  is far above anyone else as a drummer.
For him, his journey began in primary school when he used to sit and watch the steel orchestra during lunch time and he decided to "try his hand at it" and realised that he was a natural. He attended the Christ Church Foundation School and had his sights set on creating a steel orchestra there, but could not do so as the school lacked  the required materials. Although this was disappointing for him, it allowed him to find a new love: the drums. He noted that it did not take him long to learn since he had the coordination already (due to his time with the steel pan); all that was required was for him to further develop his skills, and eventually, he decided to make carer out of it. At 18, he joined the Energy Band (formerly Strategy) where he was afforded the opportunity to work with artists such as Kirk Brown, Gyptian and Allison Hinds, travelling to various festivals all over the world including New York, St. Vincent and Jamaica.
It is this travelling that Dwight says has been the highlight of his musical journey thus far. Not only showcasing his talent to large audiences, but also getting to experience different cultures. Dwight is serious about doing whatever he can to invest in his own craft and the craft of others, as he also teachers drums and steel pan when he has free time. Dwight also notes that he takes inspiration from all musicians he encounters. Overall, he aspires to be one of the best drummers and well-rounded musicians as he can be.
Joseph Callender – Saxophonist
It is far more than a physical thing for sure, it's more like and body and soul, a spiritual thing. – Joseph Callender on playing the Saxophone
Only in his mid-twenties, Joseph Callender already has well over a decade worth of experience entertaining all over the island and the wider world. This young musician is a multi-talented musical genius as he plays the alto, tenor and soprano saxophone, the flute, piano, bass guitar and the drums. A former student of the Christ Church Foundation School, Joseph says that his dream is "to be a saxophonist teacher, taking part in business studies, marketing, orchestral writing and seeing myself fulfilling a whole lot of different roles" (Nation News, 2015).
Joseph's musical journey began at age eleven with his first instrument – the recorder. His mother introduced him to well-known entertainer Cassius Clay, who bought him his fist sax around the age of 12/13 and invited him to  "come play in the Eggs Band and go on tour".  It was during this first tour (he made three additional summer tours with the band) that he realised that music was what he wanted to pursue as a full time career.
After graduating from Foundation, he attended the Barbados Community College (BCC), where he studied music for two years, receiving his associate degree in music in 2011. During his period at BCC, he continued to perform all over the island and surrounding Caribbean islands, before he finally found himself under the tutelage of world renowned Arturo Tappin to learn the "language of Jazz". Eventually, he took the stage at many hotels and jazz bars across Barbados with Tappin, as well as he NJ30+ Jazz band, jazz sensation Rosemary Phillips, and pianist Stefan Walcott. Since then, he has also entertained at the Bequia Music Festival and Tobago Jazz Festival, Jazz Artists on the Green in Trinidad and Tobago, as well as the St. Lucia Jazz Festival with Stefan Walcott and Vocalist Marissa Lindsay. Catch a glimpse of Joseph's amazing talent here.
These are just a few of some of the most talented upcoming musicians in Barbados. Keep an eye out for these and more exciting talents out of Barbados in the near future.