The Parish of St. John is located to the east of Barbados. Although it is located in the serene countryside, there are many key points on interest within this parish, certainly worth a few visits:
Bath Beach is one of the most popular beaches on the east coast of Barbados and it is easy to see why. Not only is it
one of the safest, but also rarely has strong currents. With these low currents, it is perfect for a sea bath, and with lovely picnicking areas, you can enjoy lunch on a beach excursion under the shade of casuarina trees. Other amenities at bath include a large car park to facilitate the many persons that may drop in during a public holiday, a small snackette and changing rooms inclusive of toilets and showers. Bath's scenic coastline makes it a popular spot specifically on weekends and public holidays. Therefore, to experience greater tranquillity, it is ideal to visit on weekdays. Bath is also great for snorkelling due to the presence of coral reefs in the area. Additionally, if you take a short walk to the north from Bath Beach you will discover a waterfall and the old train line that ran from Bathsheba to Bridgetown.
Note: when going to swim, keep a look out for any red flags. These are placed by the Barbados Coastal Safety authorities to alert you when it is too dangerous to swim.
Bowmanston in St. John is home to a water pumping station. Currently owned by the Barbados Water Authority, this pumping station pumps the water from and underground lake. Additionally, there is a non-alcoholic drink called "Bowmanston Liquer" aptly named after this pumping station.
One of the very first owners of the Clifton Hall Great House was the Rous family. Ownership was then passed hands several times, and it is now owned by the Franchis. However, it became evident in 2009, that this great house needed restoration in order to preserve its heritage as a historic site. This beautifully restored great house is available and open to the public for tours, parties, corporate events and other special events/occasions. As a result of the great work and dedication of Massimo and Karen Franchi, the great house is now a place that locals and tourists can enjoy the history of this old plantation house. The entire house spans over 13, 500 square feet. Its key features are the arcaded veranda on three sides, the double staircase to a central pedimented porch and a generous yet proportioned two storey front section. Currently, there are three chimneys and two fire ovens on the inside, revealed because of the restoration work done.
Codrington College is one of St. John's and by extension Barbados' most historic sites.  While construction on this building began in 1715, it was not completed until 1743. Eventually the college opened in 1745 and its chapel was dedicated 4 years later in 1749. The curriculum taught at the college was general, however in 1830, greater emphasis was placed on training and preparing persons for ordination into the priesthood. Finally, the college focussed exclusively on theological studies in 1955 and now is a full Anglian and theological college, the oldest of such institutions in the western hemisphere.
While its importance to the religions training of individuals should never be understated, Codrington College is quite the site to explore and is a popular stop for many who drive to and from the East Coast. The long driveway is exquisitely flanked my tall palm trees, creating quite the picturesque setting. The property has several imposing stone buildings, manicured lawns and gardens and ponds (where you can feed some of the underwater life). Codrington College is the perfect spot for relaxing and picnicking and sometimes used by wedding parties to take pictures. Additionally, it has one of two intact sun dials in Barbados.
Lying between Congor Bay and Skeetes Bay, Conset Bay is predominantly a fishing area. However, it is the ideal location for a quiet picnic, experience some tranquillity or to do some beachcombing.
Whilst Conset Bay is not the easiest to find as it is generally sheltered, when you do reach it, it's beautiful, natural surroundings is a site to behold. The tranquillity is aided by its calm waves – Conset Bay has probably the calmest waves on the east coast of Barbados. However, the sea is not recommended for swimming, possibly due to the amount of fishing activity that occurs in the area. The sea to the south of the jetty tends to be better for swimming. Conset Bay has a deep fishing tradition. It was deemed in 1996 to be the largest major fish landing site in Barbados. Even those mere observers of the fishing activities, may find a visit to the Bay a quite enjoyable day out as well. Persons can even purchase the catch of the day fresh off the fishermen's boats from the local market on the shore of the bay.
The earth station located at Congor Bay in St. John was built in the 1970s. In those days, it was a hub for satellite assisted telecommunications in the Caribbean and linked Barbados with the rest of the world.
While it was the mainstay of telecommunications for over a decade, the introduction of fibre optic cables in Barbados in 1982 effectively rendered the earth station outdated.
Ferdinando Paleologus Tomb
This tomb is located in the church yard of the historic St. John's Parish Church. Ferdinando Paleologus was a church warden, a surveyor and owner of a plantation (Clifton Hall). He was descended from Emperor Constantine XI (the last Christian Emperor of Constantinople). Paleologus came to Barbados after his family was driven from the Constantinople throne after the Battle of Naseby in England.
However, he died in the 1670s and was fittingly buried at the St. John's Parish church due to his ties there. However, after the church was destroyed for the third time by a hurricane in 1831, His coffin was found facing a different position from all the other coffins; his skeletal remains lodged in quicklime and his head was facing West (which was in accordance with Eastern orthodox custom). The body was later removed and reburied.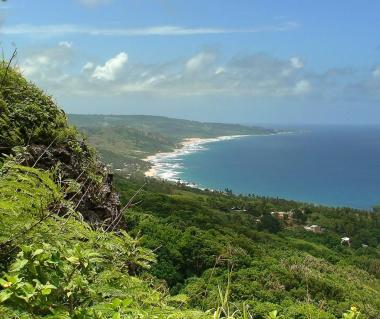 Nicely nestled on the border of St. Joseph and St. John is Hackleton's Cliff. This spot is one of the highest points in Barbados sitting at 1000 ft. above sea level.
It is said that the cliff is named after a man who committed suicide by riding a horse over the cliff.
However, the main attraction to the cliff is not the folklore, but rather the stunning views of the east coast of Barbados which it provides.
Indentured Servants -Glenburdine
Martins Bay is perfect for an afternoon lime as it has almost everything. This secluded village on the east coast is the home of the Bay Tavern – a nice little restaurant that predominantly serves seafood. Music is played in the background, creating a pleasant atmosphere for family and friends to enjoy.
This spot in addition to being a great lime spot is also perfect for a bit of sightseeing and exploration. There was once an old railway line that ran from St. Andrew that passed through Martins Bay and ran all through to Bridgetown. From the south end of Martins Bay beach, you can join this old railway line and hike up to another scenic spot in St. John, Bath Beach.
Mount Tabor Moravian Church
Mount Tabor Moravian Church is a smaller version of the St. John's Parish church. Similar to the latter, Mount Tabor provides one of the bet sights in St. John, as it is located on a ridge that overlooks St. George and Christ Church. This church was established in 2010 and has the distinction of having the first female to be ordained in the Moravian Church: The Reverend Dr. Cicely Athill-Horsford.
Miss Mattie is symbol of Bajan folk culture. She was involved in agro-business, that is agriculture, and was often heard about in Barbados for her persistence in the market. Miss Mattie even has her own folk song that goes "even in bad times, Miss Mattie does make some big big bread, got in soda to kill yuh dead, although she know de times so hard, she wun keep outa kendall yard". To hear some Bajan folk music, including a rendition of "Miss Mattie" click here.
John's Parish Church – The Rostrum & Architecture
St. John's Parish Church is one of the oldest churches in Barbados (suspected to have been first constructed in 1645). However, the first building, a wooden structure, was destroyed by fire, but was later replaced in 1660 with a stone building. Unfortunately, after a series of unfortunate events, the church's new building badly damaged by a hurricane in 1675 and rebuilt, only to be destroyed by another hurricane in 1780, and then another in 1831. Thus, the structure that currently stands in St. John, is what was rebuilt and rededicated in 1836.
This church remains a popular attraction for locals and tourists both for its history and its architecture. It has an elaborately carved pulpit that contains six different woods: ebony, locust, Barbados mahogany, manchineel, oak and pine. Additionally, it has beautifully designed curved staircases on either side of the entrance, and there is also the Westmacott sculpture, located on the wall to the left of the church's main door, which is a tribute to Elizabeth Pinder.
The church is also the home of a sundial (a clock that uses the position of the sun to tell time), one of only two intact in Barbados. Buried in the churchyard is the body of Ferdinand Palaeologus, a descendent of Constantine (the last Christian Emperor of Constantinople) and the late Prime Minister, Honourable David John Thompson. This site also treats visitors to some of the most spectacular views of the East Coast.
Tapestry of Codrington College
The Lodge School was first established on the site of Codrington College on September 9th, 1745, before eventually opening at its current location (formerly small Ridge Plantation) on March 25th, 1829. This property was originally purchased as a church house for its Chaplin and the first classes of the school was held in the Chaplin's Lodge. This is where the name The Lodge School originates.
In 1903, the first Cadet Corps in the Caribbean was established at this school. Over the early years, numbers steady increased from a mere 11 pupils in the 19th century to 500 by the mid-20th century. From its early days, The Lodge school was a boys only school. Girls were first granted entry on a limited basis in the 1950s into 6th form, and the school became fully co-ed in 1980. The school is a school of excellence: with exceptional performances in all major sports especially cricket with (many old scholars became Barbadian and West Indian cricketers) and athletics (the first Barbadian to win an Olympic medal attended the Lodge School).
Villa Nova is one of many Great Houses in Barbados that has been restored over the years. Villa Nova was built in 1834 (just about at the end of slavery) and is made from coral stone and covers 15 acres of land. It is beautifully set on a hill and thus provides panoramic views of the East Coast below.
The property was restored in such a way that preserved its original colonial heritage and opened its doors to the public in 2001. It has 28 rooms, each tastefully and elegantly decorated with high quality furniture and other products.
Those who choose to stay at Villa Nova may worry about the lack of amenities in St. John, given its location in the countryside. However, the property provides adequate amenities including tennis courts, a fitness room and gym, spa treatment rooms, a restaurant, a swimming pool with a bar area and a conference room. Additionally, staff at Villa Nova accommodate special request such as catamaran cruises.
In addition to being a popular venue for many to stay (for example celebrities), the venue is also quite appropriate for weddings and special functions, due to its lush tropical gardens.
A significant aspect of Barbados' folk culture is that of Yarico's Pond. Yarico was a young Amerindian maiden from South America who fell in love with an Englishman named Incle, whom she treated after him and his fellow sailors had been attacked by locals. Yarico fell in love with him and when it was safe for him to return to his ship, he took her with him to Barbados.
However, while Yarico loved him, Incle just wanted to exploit her. He sold her as a slave to Kendal Plantation in St. John. Folk legend has states that she either have birth by large pond at the plantation or drowned herself there. Thus, the pond at Kendal plantation is known as Yarico's pond. In honour of her life, a monument was erected in Yarico's memory in 2015.
There is no shortage of key points of interest or folk legends in the Parish of St. John, each reflecting key aspects of the history of Barbados.