Codrington College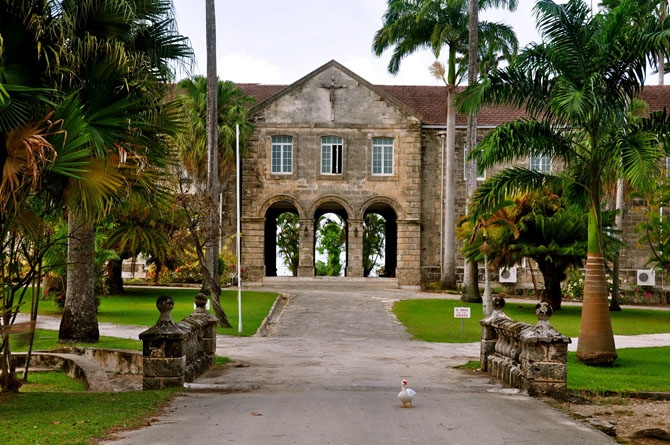 Located in St. John, Codrington College was built in 1743, making it the oldest Anglican Theological College in the Western Hemisphere. The College was named after Christopher Codrington who, after he died left two estates to the Society for the Propagation of the Gospel; in addition to a large sum of money, to establish an institution of higher learning in Barbados. The College was originally opened in 1745 as a grammar school, but in 1830 became a university level institution. Many priests; past and present, train at Codrington College, and the school maintains its role in the education of priests.
However, Codrington College is more than a school for the training of priests, but rather has beautiful natural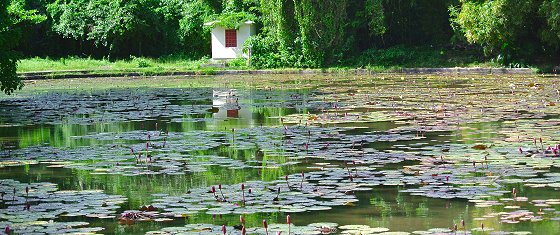 surroundings that are free for the general public to experience. From the time you take the drive down the pathway lined with cabbage palm trees, you will get a sense that you are not at any ordinary school. The lush gardens, buildings with unique architectural designs, and the lily pond lays the setting for a tranquil countryside experience, away from the hustle and bustle of the city. From the hillside of the College, you can experience one of the most picturesque views of the East Coast, as there is a stunning view of the Atlantic Ocean below. Picnic tables are also situated around the property for those who wish to picnic, and a play park is available for children.
In addition to the beautiful natural surroundings on which the college its situated, the buildings themselves are breathtaking. The main building was patterned after an Oxford college, the old principal's lodge (now the library and study) was originally a 17th century plantation great house and the altar in the chapel is beautifully comprised of ebony, lignum vitae and Cordia wood.
As stated previously, the grounds are free to be toured. Persons can visit, take pictures of the historic buildings and fantastic views, tour the grounds and feed the fish and ducks in the lily pond. As you can imagine, with such a picturesque setting, Codrington College also plays host to various events including weddings, Christenings, seminars and conferences. The grounds, kitchen and chapel can be reserved (for a cost) during the entire year, except during the season of Lent.
With such a key role in history and education in Barbados, Codrington College remains a crucial aspect of Barbadian society. We encourage you to take a drive, by bus or by car, to this wonderful picturesque location, and take a tour of this wonderful property.